It's the Little and Large show for England as African champions Egypt are wellied at Wembley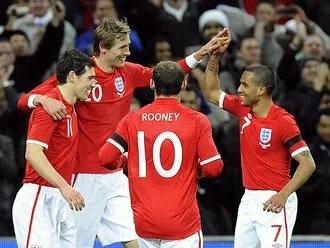 IN the end England relied on Little and Large to ease them out of an embarrassing situation against Egypt at Wembley tonight.
Peter Crouch, Tottenham's 6ft 7in streak of ligament, and Shaun Wright-Phillips, Manchester City's 5ft 5in mini-me, got the goals that took Fabio Capello's men from 1-0 down to 3-1 up in 45 glorious second half minutes.
Remember, Egypt are the three-time African champions. Only a last-gasp play-off against Algeria forced them out of the World Cup in South Africa this summer, it would have been their first since they scared the life out of England, Holland and the Republic of Ireland at Italia 90.
While the tabloids prepared their "England in a Pharoah crisis" headlines after 45 minutes, Capello worked his magic, bring on Crough for Jermain Defoe and Wright-Phillips for Theo Walcott. Lovely line Chriss Waddle, who said: "I've studied Walcott on the wing. And I've decided he just doesn't understand football. He makes the wrong runs at the wrong time."
Most Arsenal fans would agree. The boy's got pace, but little else. Oh, and Capello also brought on the under-rated Manchester United playmaker Michael Carrick for Chelsea's over-hyped Frank Lampard and Aston Villa's James Milner for Liverpool's Stevie Gerrard, who rarely impresses for England. Those might have been the best moves of all.
So, after Matthew Upston's slip gifted Mohammed Zidan an opening goal - leading to calls for the Premier League to sign the 28-year-old, currently at Borussia Dortmund - there was a touch of unrest at Wembley.
Capello had his half-time chat, made a few changes, and presto! England came roaring back. What a night. Crouchie took his tally to 20 in 37 for England - if only he could do that in the Premiership - with a superb double. Ironically, Defoe, who scores so frequently for Spurs, failed where his club-mate thrived.
Wright-Phillips scored the second after a Milner volley, made the third for Crouch. Their celebration saw a high five for Wright-Phillips. A low-five for Crouch. Great stuff.
Capello, with a little help from the interpreter, said: "The second half we won the ball back quickly. I think I'm happy. We have to choose a lot of players, it's good. Crouch is an option, he play very well. It's very important because the second half he made the different.
"Always when you go forward, you take the ball, and the whole team goes forward."
Not entirely sure what all that means, but somewhere between the lines I guess you can predict Crouchie - and Shaun Wright-Phillips - will be part of the 23-man squad that travels to Rustenburg on June 1.
Interesting to see David Beckham warming up but not getting on. Loved James Milner. Came on and produced a lovely volley that led to the Wright-Phillips goal.
Wes Brown at right back? No. Forget Gary Neville and Glen Johnson. Try James Milner. Upson erred for the first goal but John Terry, booed a little at the outset, seemed to forge are reasonable partnership with him.
West Ham's Rob Green continues to hold off Portsmouth's David James and Birmingham's on-loan Joe Hart in goal.
It's all settling down. England are up to eight in the FIFA world rankings. I still say England should be backed for global supremacy at Soccer City on July 11. Forget the Terry/Cole disruptions. We have the depth, Capello has the knowledge. Egypt are in denial.
Labels: african nations cup winners, booing, egypt, england at wembley, fabio capello, john terry scandal, Peter crouch, SHAUN WRIGHT PHILLIPS, Wayne Rooney, world cup south africa 2010