Terry let off by Wembley fans but Tevez issues an Argentine fatwah: "He'd lose his legs or more in my neighbourhood."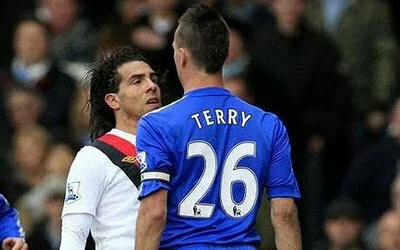 SO John Terry got away with it at Wembley last night. A few boos, a couple of jeers, a difficult first half. After the break, Terry and the rest of his England team-mates were warmly received as they saw off African champions Egypt 3-1 in front of 80,602 reasonably happy fans.
Of course, if he'd been playing against Argentina - who won 1-0 at the Allianz Arena in Germany last night - he'd have been lucky to escape with his life. Who says so? Carlos Tevez, the delightful bundle of energy whose owners are currently allowing him to play for Manchester City.
Tevez, who squared up to Terry during last week's 4-2 win over Chelsea (he tried to go chest to chest, it ended up chest to tummy, see picture), is quoted today as saying: "If you acted like this in Argentina you'd be dead."
For those who have been living on the moon, Terry slept with Vanessa Perroncel, the mother of Wayne Bridge's son. The story broke last month. And for that, he lost the England captaincy and was forced to fly to Dubai to placate his wife Terri, once Vanessa's big mate when they lived near eachother in Oxshott, Surrey.
Teve
z may not be the biggest bloke in the Premier League. But he grew up in Fuerte Apache in Buenos Aires, where they rehoused the homeless from the Villa 31 slum in Retiro in the 70s. Apparently it's tougher than Barking, where Terry was raised. A lot tougher.
Tevez, whose contract - and life - appears to be run by a chap called Kia Joorabchian and his International Sports Management team - said: "It's wrong. In my opinion, Terry has no moral code for what he did to Bridge. In my neighbourhood if you do that, you lose your legs, or more - you don't survive."
Back in London Terry, unaware of this Argentine fatwah, said after supersubs Peter Crouch and Shaun Wright-Phillips had secured an important pre-World Cup win: "
The supporters were fantastic in the way they got behind us. Obviously there were a few jeers but as a player I can handle that and they are fully entitled to their opinion.
"Whether or not I am cheered or booed it was important we got the win."
Of course boss Fabio Capello was happy enough with a game which looked like it was getting away from England at half-time. He said: "I wasn't angry at half-time, We create a lot of chances. All I did was make some changes. In the first half we were too deep and didn't press enough. We did this.
"Thank you to the crowd because they supported the team and Terry. He is very important."
While England were beating Egypt - fresh from their third successive African Nations Cup triumph in Angola six weeks ago - Algeria were taking a 3-0 beating from Serbia in Algiers.
Algeria knocked Egypt out of the World Cup on a play-off - because both sides finished with identical qualifying records - have been drawn in Group C with England for the World Cup in South Africa. It looks like June 18 in Cape Town will be a comfortable second game for Capello's crew.
England's first opponents in Group C, the USA, were beaten 2-1 in Holland with Liverpool's Dirk Kuyt and Klaas-Jan Huntelaar on the score-sheet. Former Fulham striker Carlos Bocanegra scored a late consolation.
The fourth team in Group C, Slovenia, produced an impressive 4-1 win over Qatar. Their coach Matjaz Kek said. "We played well, it was a nice result and I'm happy. But it's 100 days to the World Cup. That's a long time."
Apart from Argentina's win in Germany, there were few shocks around the world as the nations warm-up for the big one in June. South Africa, who kick it all off against Mexico at Soccer City on June 11, drew 1-1 with neighbours Namibia.
Most interesting result of the night: The Ivory Coast, perhaps Africa's best hope of success in their first World Cup with Didier Drogba and the Toure brothers, were beaten 2-0 at home by South Korea. Michael Essien's Ghan went down 2-1 to Bosnia. On the other hand, Alex Song's Cameroon managed a 0-0 draw in Italy.
BACKING ... England fans show their support for JT
I was delighted with the response I got from all sections of the crowd.
Labels: boo-boys, carlos Tevez, england egypt wembley, fabio capello, john terry scandal, mummies dummies, Peter crouch, SHAUN WRIGHT PHILLIPS, world cup warm-up