The Wembley pitch killed Rooney. But Sir Alex proves his astonishing powers once more.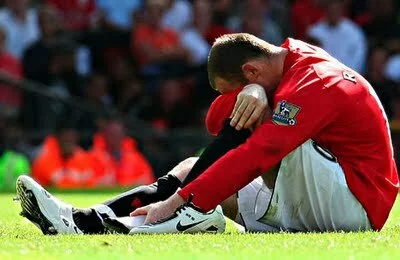 AH, the limitless power of Sir Alex Ferguson. Oh to be omnipotent like Scotland's finest, feistiest export. Hyperbole? Hardly. How many other football managers have the power to resurrect 24-year-old centre-forwards just before the most vital game of the season?
On Saturday night, after an unimpressive 1-0 win over Wolves at Molineux, Sir Alex issued this solemn death notice: "Wayne Rooney? The Wembley pitch has killed him."
This morning, miraculously, we have "EuROO joy" splashed across the back of The Sun. Yes, Europe's leading goalscorer is fit to play David Beckham and his Milanese pals at Old Trafford on Wednesday.
Incredible. Sir Alex's healing hands have worked their Lazarus-like magic once more. How many times have United's players been unfit to play for England, at death's door internationally... only to recover just in time for the Red Devil's next domestic fixture?
Rooney's rapid recovery is clearly an act of God. His "inflamed knee cap tendon" was all Fabio Capello's fault. How do we know? Because Sir Alex spake thus: "He shouldn't have played at all in England's friendly against Egypt. But he played 90 minutes (actually it was 86). He is now very doubtful for the Champions League game."
And of course, it was all down to that spongy Wembley pitch. Nothing to do with the completely unrelated knee problem which saw him start the Carling Cup final on the bench... he came on to replace Michael Owen (out for the season with a hamstring, another Wembley victim) and scored the winner.
Poor old Milan. They must be reorganising as I write, having set up their side for Wednesday's fixture at Old Trafford on the basis that Rooney was on the verge of amputation or cremation.
Yes, Rooney, who scored twice in the 3-2 first leg win at the San Siro. Phew, how those Man U fans must be breathing sighs of relief. Mind you, given Rooney's current form - 8 headed goals in ten games after scoring four headers in 354 attempts - the knee if far less important than the forehead.
More worrying of course is that Sir Alex the all-seeing Rooney ruler. Will his £70m-rated £110,000-a-week striker suddenly suffer an injury just before the end of the season, ruling him out of the World Cup adventure?
Surely not.
Incredibly, Sir Alex has also turned the obviously lazy £30million Bulgar Dimitar Berbatov into a workaholic too. After Dim's lacklustre performance against Wolves, Sir Alex opined: "If you look at the statistics, you'll see that he's one of the hardest runners in our team and that he covers the most ground.
"He's a bit languid and whatnot but he really puts the effort in."
But there appears to be little he can do about the orange idol Wes Brown. He's broken a bone in his foot and may be out for the season - with the World Cup in doubt too. Given his performance against Egypt, that may not be a bad thing.
And who'd want to play at right back against the USA in Rustenburg on June 12 with former England skipper John Terry parading around shirtless with his captain's armband (as he did after yesterday's FA Cup quarter-final triumph over Stoke) and Ashley Cole on crutches at left-back with his psychologist in tow?
Amid all this of course, there's the other big one. Arsenal at the Emirates tomorrow night. They lost 2-1 after inflicting damage on their own chances at Porto. And Cesc Fabregas has a non-Wembley hamstring problem. The same one that kept him out for a month over Christmas. Can Arsene Wenger find those recuperative Fergie powers...? I think not.
It's going to be quite a week.
FOLLOW UP TO YESTERDAY'S BLOG: Portsmouth coach Avram Grant has apparently telephoned Spurs boss Harry Redknapp, wishing him well for the FA Cup quarter-final replay against Fulham. Grant said: "I've just spoken to him. I weish him well for the replay but I hope he loses the semi!" The winner of Spurs v Fulham will play financially-challenged Pompey while Aston Villa take on Chelsea in the other semi, both to be played at Wembley on the 10th and 11th of April.
Labels: "wembley killed him", ashley cole psychologist, cesc fabregas hamstring, john terry armband, manchester united sir alex ferguson, wayne rooney injury nightmare, wembley surface