Team Bridge on top at Stamford Bridge, Ramsey agony at Stoke, now listen to Radio 5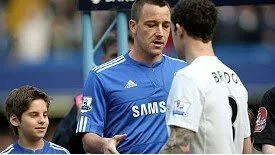 THE weekend is barely half-done and already we've had so much dramatic action - from Wayne Bridge refusing to shake John Terry's hand before Manchester City's shock 4-2 win at Chelsea (pictured) to Aaron Ramsey's horrific injury as Arsenal won 3-1 at Stoke.
From Canada's Ice Hockey gold medallists getting into trouble for drinking on the ice after beating the USA to England falling 20-16 to Ireland at Twickenham in the Six Nations.
A weekend of drama, all watched on a big screen in a home theatre near Wrexham in Wales. I've turned down two Sky News appearances to attend Linda Holgate's 50th birthday in the middle of nowhere - a magnificent mansion called Wynnstay Hall which once housed Lindisfarne College before it closed in 1994.
And now Radio 5 want me on at 11pm to talk about Bridge and Terry. So much for the birthday party!
Think of me tonight, out in the cold on the mobile, being abused by Chelsea fans. This is an incredible place, beautiful scenery, we drove through Llangollen on the way to go-karting. Had no idea what this area of Wales is like - though all the locals wanted to talk about Friday night's Six Nations defeat by Wales at the hands of France, who appear the dominant force this year.
Until Ramsey's awful injury, the day had been dominated by Chelsea's first home defeat of the Premier League season. With Manchester United playing Aston Villa in the Carling Cup tomorrow, it was just the right result for Sir Alex Ferguson.
Frank Lampard gave Chelsea the lead as they dominated for the early exchanges but Carlos Tevez equalised as City - apparently disrupted by the hullaballoo over Bridge and Terry, began to settle.
Bridge was, disgracefully, booed with every touch at the Bridge. The former Chelsea left-back announced he wouldn't play for England on Thursday - because Terry had an affair with Vanessa Perroncel, the mother of his child.
Terry, who had the England captaincy stripped from him in the aftermath of the scandal, then suffered the humiliation of seeing Team Bridge triumph with that lovable rogue Craig Bellamy giving City the lead and scoring the a clinical fourth. Between his two goals, Tevez added a second from the spot before Lampard did the same.
As Roberto Mancini celebrated an unexpected success over his fellow-Italian Carlo Ancelotti, the Blues were forced to finish with nine men after Juliano Belletti and Michael Ballack were sent off. John Terry was booked and appeared lucky to stay on the pitch after a scuffle with Tevez, who clearly captains Team Bridge. Good lad.
City had failed to score in their previous seven visits to Stamford Bridge, while Chelsea had only conceded eight at home in the Premier League all season. This was some result. Ancelotti's first defeat at the Bridge, and the Blues first home reverse in 38 games.
Arsenal closed on the leaders with their injury-time win at Stoke, who were on the verge of an 11-match unbeaten run, which would have been their best in the top flight since 1974. Stoke scored from a typical Rory Delap long throw, Nicklas Bendtner equalised but the match was marred by an awful injury to Aaron Ramsey which saw Ryan Shawcross sent off.
The players on both sides looked stunned after the Welshman was carried off... it's one of those incidents so bad Sky refused to show a replay. Cesc Fabregas looked like he was going to be sick. Awful. Just wasn't the same after that, though Fabregas recovered to tuck away a last-minute penalty and Tomas Vermaelen added the late, late third.
Labels: aaron ramsey, ashley cole injury, chelsea 2 Manchester city 4, chelsea defeated, england six nations, italy, radio 5, scotland, twickenham, wayne bridge and john terry