Wayne's World: from teen tempest to a man united... and the Egyptians quake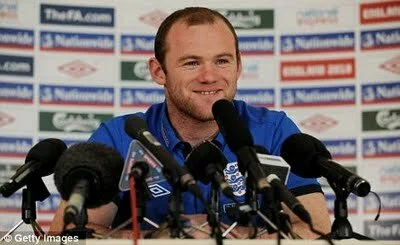 IT seems like just yesterday we were worried about Wayne Rooney's knee.
Today he's unstoppable, the World Cup is ours, Egypt will be flattened on Wednesday, pyramids and all.
Yes, a day can be a long time in football, especially when the England squad are gathered at The Grove with the nation's media in attendance before Wednesday's friendly against Egypt at Wembley (where the surface, according to James Milner, is as bad as World Cup venue Nelspruit, but that's another story).
Yesterday, after Sir Alex Ferguson had warned of a possible knee problem, the Wonder that is Wayne emerged to say all the right things, calming the nation from Defcon 1 to a state of calm serenity.
And as I said here three weeks ago when John Terry was stripped of the captaincy, Rooney emerged before the microphones looking every inch like the man who will lift the World Cup at Soccer City on July 11.
Well, we can dream can't we?

The Wisdom of Wayne knows no bounds. The wild Evertonian has become a man united.
Thus spake Rooney, the 24-year-old who looks like he always has but appears to have matured in every other way: "I feel good. I feel every game I'm going to score. I do feel unstoppable."
Which is exactly what all those nice foreign coaches were saying about him in Sun City last week. Good to hear our spearhead is sharp and confident.
He was even able to explain why, after his headed winner in the Carling Cup final against Aston Villa on Sunday, he has changed his method of scoring. From four headers in 345 games to eight in nine. Echoing my point yesterday about Valencia versus Cristiano Ronaldo, he said: "This year, with Antonio Valencia, the delivery has been better than previous years. But I've been working on my heading. My movement and timing has got better. It has all come together and that is probably why I am scoring more with my head."
Ah but we've seen this before. A player in top form then suddenly, under the blazing Sun, people like Ashley Cole, John Terry and Wayne Bridge (not to mention their partners) begin to wilt.
No problem there either. After begging the Wembley fans not to boo former captain Terry, he says: "I don't feel any pressure. I have had to deal with pressure since I was 16. You get used to it. I deal with it in a way I feel comfortable.
"What I will do is try and play my best, give my all. I am ready for the World Cup. I am in the best form of my life. I am ready
"It is difficult as a footballer because you know people look up to you.
"You are role models, whether you like it or not, and you need to try and be aware of that and try to do your best on the pitch and try and do things well for kids to see.
"When I first joined Manchester United I would go out to nightclubs, but it is very rare that I would go out to a nightclub now. It changes with age. I made that decision myself. I got into a few things that I shouldn't have when I was younger and I tried to change that.
"I am settled at home now. It's good. I am enjoying my life with my family. I spend a lot of time at home with them and that has obviously benefited me. When you are home you get your rest and it is definitely helping."
And yes, I agree. It all sounds too good to be true. But let's not worry about that. Roll on Egypt. Tutankahmun, Cleopatra, Sphinx, Anwar Sadat, your boys are in for one hell of a beating.
Labels: ashley cole injury, england at wembley, england versus egypt at wembley, john terry and wayne bridge, john terry scandal, Wayne Rooney, world cup 2010