Ashley Cole considers quitting as Arsenal confirm Aaron Ramsey is out for season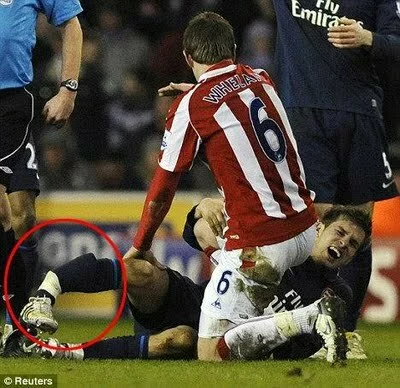 ASHLEY COLE is considering quitting football as he lies in a Biarritz rehab centre, conetemplating his post-operative ankle - and a divorce from the nation's darling, Cheryl Cole.
The 29-year-old was injured by Everton's on-loan USA international Landon Donovan - unintentionally - three weeks ago and needed surgery which may put him out of the World Cup in South Africa which starts on June 12 when England, ironically, play the USA in Rustenburg.
Though Chelsea boss Carlo Ancelotti says he is confident Cole will play again before the end of the season, there are no doubts about his mental state.
While he has been rehabilitating, Cole's private life has self-destructed. Four different women have claimed to have had affairs with him since the first stories involving illicit text messages emerged in The Sun three weeks ago.
And Cheryl Cole officially announced that Britain's dream couple - second only to David and Victoria Beckham - had split on Tuesday.
With Chelsea losing 4-2 to Manchester City yesterday amid the whole Wayne Bridge/John Terry dispute, the Sunday Mirror's Paul Smith reckons Cole has told friends he's had enough.
Officially Chelsea are saying what they said when Terry was revealed to have had an affair with Bridge's ex-partner Vanessa Perroncel - that they would support him.
But the club's billionaire owner, Roman Abramovich, is believed to be unhappy about the negative publicity surrounding two of his leading English players.
Though Abramovich himself has recently been through a very public marital split, he does not want the club dragged through the gutter.
The club moved last night to deny they would fine Cole or force him to be sold - despite reports in Spain that Real Madrid were hovering, ready to pick up the pieces.
Chelsea chairman Bruce Buck has apologised to Cole for the way the club have handled matters,s an X-Factor judge, does not appear to be forthcoming.
Meanwhile Arsenal's Welsh midfielder Aaron Ramsey, horrifically injured after a tackle from red-carded Stoke midfielder Ryan Shawcross, is out for the season. The club confirmed both bones in his shin, the tibia and fibula, were broken in the challenge.
Labels: aaron ramsey, arsenal 1 manchester united 3, ashley cole ankle operation, biarritz, chelsea bruce buck, horror injury