The nation awaits news from the battle of Rooney's knee... or is it just a tummy bug?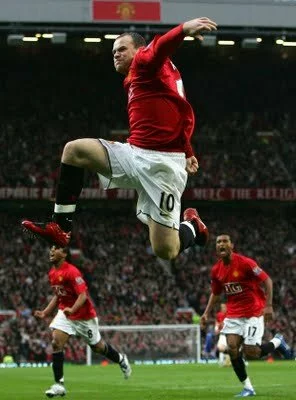 GARY NEVILLE spoke for the whole nation this morning. And that alone is seriously worrying when you think about it. Still, these are desperate times. England as a footballing nation is now on red alert, defcon 1, teetering on the edge of panic.
Wayne Rooney has a knee injury. He may miss England's friendly against Egypt at Wembley on Wednesday. Uh-oh.
These are veteran Manchester United full-back Neville's momentous words this morning: "England cannot afford to lose him."
He's right. Of course he's right. The end of the World Cup is nigh. Doom, doom and thrice doom. We can do without Wayne Bridge or John Terry. But imagine going to South Africa in June with Peter Crouch and Emile Heskey up front. Or Jermain Defoe and Bobby Zamora. Unthinkable.
Even before the two goals at Milan in the Champions League and the winner against Aston Villa in the Carling Cup final at Wembley yesterday, I was saying this to anyone who would listen on Sky News, talkSPORT, BBC Radio5, on South Africa's 702... and here it is again on my birthday blog.
If Rooney misses the World Cup, all hope is gone. Neville, a veteran of "We-can end 44 years of hurt" syndrome, saw his team-mate produce another nifty header yesterday.
The stats on Rooney's rather large forehead are bizarre. Four headers in his first 345 games. Then, in his last nine, eight headed goals. All of them vital, clinical. And 28 in all this season for a man in the form of his life (we'll go into the debate about how Antonio Valencia provides more dangerous crosses than Cristiano Ronaldo ever did at a later date).
Then Sir Alex Ferguson dropped the bombshell after his umpteenth trophy success yesterday: "Wayne got a whack. He has been complaining about that knee for a few weeks and I thought we might have to take him off.
"The doctors are assessing it. I don't know what England are going to do."
Well if he doesn't know, how does Fabio Capello get to grips with a side without their talismanic striker?
Neville, who played for so long behind a certain David Beckham on the right, added: "Wayne is a great player to play with. He has been brilliant for England too. The only thing he has to do for England now is go and win something. That is what England players have been striving to do for the past 40 years. That would really crown it off for him."
The natio
n trembles, though Rooney himself said from the England training base at The Grove this morning: "Yes it's okay, I went for a scan today and it's just a bit of bruising. So I'm having a bit of a rest day today, I should train tomorrow and should play on Wednesday."
Neville, perhaps more concerned about United's immediate fortunes, added. "We have two months of important matches now and we need him fit for the
m. It is there for everyone to see. He is going through a peak moment in his career. He is maturing now."
Still, perhaps we are worrying too much. Before yesterday's final Rooney - who came on for Michael Owen, scorer of United's opener in a 2-1 win - said he was starting on the bench because "I had a little bit of a stomach bug and the manager was looking for an excuse to leave me out".
Surely the same thing wouldn't happen before an England game, a vital friendly against the three-time African champions in the build-up to the World Cup?
Who would suggest such a thing of Sir Alex? Not I. That's for sure.
Labels: england in south africa, fabio capello, gary neville, knee injury, sir alex ferguson manchester united, stomach bug, Wayne Rooney